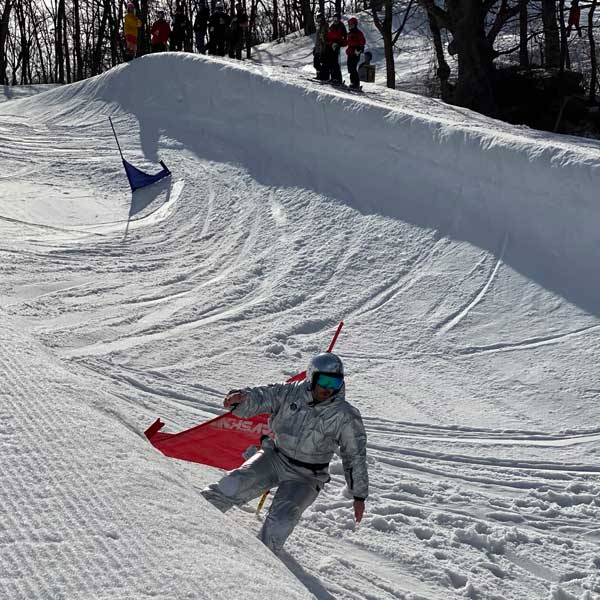 Another Year in the Books
First and foremost huge thanks to Tyrol and their wizard behind the snowcat, Jared! Thanks to Chrissy for helping us out with times and Brent for setting the course. Thanks Katie and Anna for helping get prizes organized and helping me run the event. We had a mix up on Mens 15-20 group. Congrats to Luke on getting Second place! Sorry we messed that up.

Big shoutout to our oldest competitor ever, Anna Heffernan, 77 years young out there! She had two clean runs, made all the gates and only got faster on her second run! May we all be that young at 77!

Thanks to all the sponsors below for hooking us up with great swag for the tote bags and thank you all for coming out year after year to keep this going!
Results
Huge thank you to all of our sponsors
2023 Podium
Womens 14 and Under

Kayla: 52
Lola: 53.48
Connie: 54.12

Womens 35+

April: 50.59
Laura: 51.42
Charlotte: 56.43

Switch

Matt Miley: 44.52
Jake: 46.52
Matt Hirsch: 47.14
Mens 14 and Under

Doug: 45.97
Weston: 48.42
Roy: 49.11

Mens 15-20

Bodie: 40.5
(Fastest time of the day)
Luke: 43.43
Dom: 43.67

Mens 21-29

Phillip: 44.69
Alex: 44.84
Kevin: 46.58
Mens 30-39

Joseph: 40.89
Jake: 41.3
Al: 42

Mens 40-49

Sonny: 41.21
Dobbe: 41.63
Magic: 42.58

Mens 50+

Chad: 42.35
Scott: 45.72
Pauly: 46.59