---
---
The Metta lives up to its name. A sincere wish for the welfare and genuine happiness of all beings, without exception. The Metta is an all terrain feel-good binding with a medium flex that provides a great foundation to ride strong and ride with confidence. A responsive, forgiving nylon highback and chassis paired with a Mervin Made boron fiber Flex Control drive plate, Light Form toe strap and a new Power Flex ankle strap come together for a fully cohesive Flex Control advantage.

The luminous glow emanating from this Metta binding is telling of good things to come. No doubt, the future is bright when you are strapping into this all terrain boot candy. Who doesn't love the excitement of hot pink neon lights against midnight black?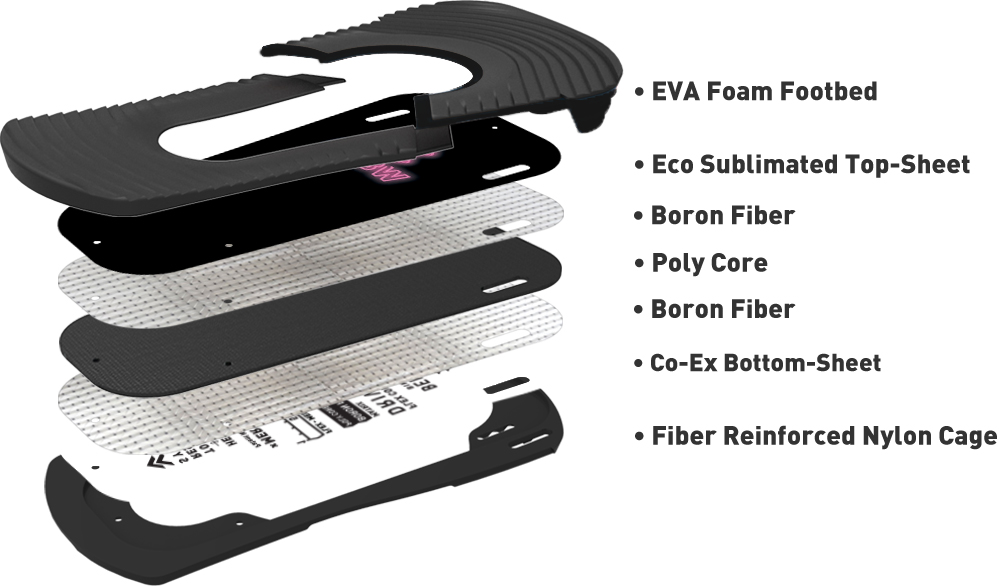 FLEX CONTROL DRIVEPLATE
MEDIUM FLEX RATING - (5/10)
BORON FIBER, POLY CORE AND ECO-SUBLIMATED TOP SHEET MATERIAL CREATE A FLEX PATTERN FOR A BROAD RANGE OF CONDITIONS.

FIBERGLASS PANELS IN THE FOOTBED CREATE SOPHISTICATED FLEX PATTERNS AND ENHANCE RESPONSE SIMILAR TO YOUR SNOWBOARD FOR ADVANCED FLEX CONTROL.

DYNAMIC ENERGY OF THE SPECIALIZED COMPOSITES CREATE REACTION AND DRIVE LIKE NO OTHER BINDING CAN.
ASYMETRIC HIGHBACK
LOVE HANDLE
SLIGHTLY CUPPED AND SLIGHTLY ASYMMETRIC SHAPE COMPENSATES FOR INCREASED RIGIDITY OF MEDIUM-SOFT TO MEDIUM-FIRM HIGHBACK MATERIAL DURING SIDE TO SIDE BOOT MOTION FOR A SMOOTH AND RESPONSIVE HIGHBACK.
HIGHBACK MATERIAL:  PERFORMANCE POLYMER - NYLON HIGHBACK 
RESILIENT [4~5/10] FLEX FORMULA
NYLON POLYMER HAS A MEDIUM FLEX WHICH IS BEST FOR ALL AROUND RIDING CONDITIONS
---